Sporting Artists
When you contact an artist, please let them know who connected you.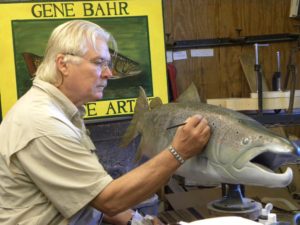 Gene is a master carver who recreates angling experiences through his lifelike creations. "From just a photo and a few measurements," he said, "I know I can recreate the fish for the angler. And the fish can go free."
Born in Alabama, Gene came to Maine during his time in the Navy. He began mounting fish using taxidermy in 1976, and started carving fish in 1984. By 2000 Gene had switched entirely to "Catch and Release" wood carving. His extensive collection of fish profiles, measurements and photographs and his study of fish anatomy and color, has enabled him to produce long lasting and valuable representations of living fish.
2017 – Bill Elliott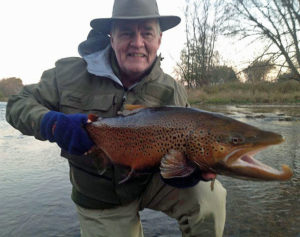 Check out Bill's facebook page.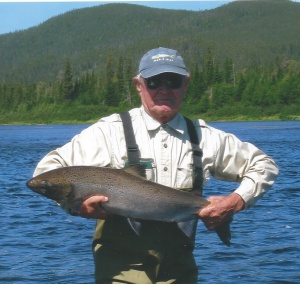 "His watercolors of wildfowl-hunting and salmon-angling are so deft and dramatic he sells them as fast he paints them. They show brooding skies, perky retrievers, raised shotguns, curling backcasts, white explosions of water; the blazing foliage and dank marshes of autumn, and winds and snow squalls you can almost feel hitting your cheeks. Gazing at some of Reneson's best work makes you shiver; and want to huddle beside a riverside campfire."
(Atlantic Salmon Journal – Summer, 1993)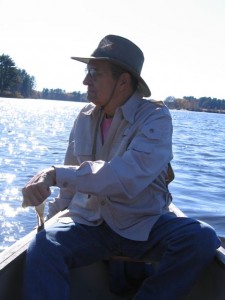 The interaction of earth, water, air and light are major themes in Charles McCaughtry's work as well as his love of fly fishing, fishing flies, and small boats. Whennot painting, he is fly fishing, canoeing, or hiking where he gets much of his inspiration.
Charley has exhibited widely in galleries, museums, and institutions and he has held over fifty one man exhibits.
Recent honors include commissions from the Liberty Bank in Middletown, CT; the Dodd Center at the University of Connecticut, and the Hartford Life Insurance Company, Hartford, Connecticut. Charley has also been recognized by Who's Who in American Art, and American Artists of Renown
Luther Kelly Hall is an internationally acclaimed sporting artist. His paintings and illustrations have been featured in sporting publications, galleries and collections throughout the US, Canada and Japan.
Walk 100 yards out of Hall's studio door and you will step into the salt water of the Atlantic Ocean.- the backdrop and the centerpiece of much of Hall's dramatic sporting images. Whether maneuvering his center console among the rocks and rips and seams of his coastal environment in pursuit of Stripers or casting the windswept and wave swept rocky precipices of Atlantic New England' Hall gathers the visual and sensory material for his saltwater fly fishing portrayals.
The fly fishing experience, the drama, the adventure, the comedy and the serenity of those experiences have become the primary frame work of Hall's paintings. Montana's Madison River. Yellowstone National Park's Slough Creek, Pennsylvania's Spruce Creek, Quebec, Canada's Grand Cascapedia River and Atlantic Coastal New England are his most portrayed waters.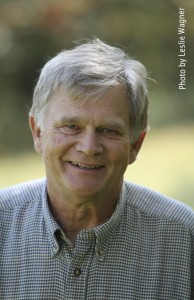 In a painting career that has spanned more than 40 years and produced a body of work bearing comparison to the likes of A.B. Frost and Ogden Pleissner, Peter Corbin has established himself as one of the finest American sporting artists of his generation. But while his reputation is based primarily on his meticulously composed scenes of sport – fly fishing and wingshooting in particular – the paintings collected in his portfolio reveal the full range of his talent, the stunning breadth of his reach and vision. Landscapes, portraits of people and dogs, depictions of birds and other wildlife in their natural habitat, equestrian art: These too are realms in which Corbin's classic style and respectful sensibility have made a lasting mark. (By Tom Davis)